Canoe prices 2021
IMPORTANT NOTE! The canoe centre is only open at pre-booked times.
Information, prices and questions in general via email: info@aagarden.com or by phone +46763728000 or +4637254045
Canoes
Multiple day tours "Per Canoe, In groups of 2 – 20 canoes"
Price
Per canoe, per commenced day (not daily prices).
275 SEK/starting day
NOTE. Canoe camping check are mandatory for multiple day tours
Multi-day tours with a single canoe (1-2 people).
Price
Per canoe, per commenced day (not daily prices).
325 SEK/starting day
NOTE. Canoe camping check are mandatory for multiple day tours
Trip by the hour or day tours
Price
1 canoe
400 SEK
2 or more canoes
350 SEK/canoe
Extra equipment / addons
| Extra equipment / addons | Price |
| --- | --- |
| Extra for 3rd person (canoe seat) | 50 SEK/starting day |
| Canoe transport trolley | 50 SEK/starting day |
| Extra paddle | 30 SEK/paddle/day |
| Luggage container or tarpauling or sleeping pad | 30 SEK/piece/day |
| Trangia storm kitchen (cleaned upon return) | 100 SEK/trip |
| - Trangia fuel | 60 SEK/bottle |
| Canoe camping check | Se below! |
KAYAKS
Same price as canoes (see above). For a double kayak you pay an additional 100 SEK per day..
CANOE CAMPING CHECK
For multi-day trips, canoe camping checks are mandatory, they are purchased the same time as the canoe rent.
Checks required for overnight stay at canoe campsites, costs SEK 40 per night for anyone over the age of 12. Small children: no fee.
We accept no multi-day rental of canoes/kayaks without camping checks. For accurate reporting to the campsite hosts, we collect info about which camp sites have been used, after the trips.
We want to be sure all camp sites are up to par, with firewood, firepits and clean toilets.
CANOE TRANSPORTATION
We have fixed prices for transporting canoes out / home. When traveling or returning, a person can travel with no charge.
The price for transport depends on the number of canoes:
Starting fee: 300 SEK + fee as shown below, out / home:
Fee per km km, excl starting fee 300 SEK
| Number of Canoes/Kayaks | Price |
| --- | --- |
| 1-2 Canoes/Kayaks | 4.00 SEK/ km |
| 3-4 Canoes/Kayaks | 5.50 SEK/ km |
| 5-6 Canoes/Kayaks | 7.00 SEK/ km |
| 7-8 Canoes/Kayaks | 8.00 SEK/ km |
| 9-10 Canoes/Kayaks | 9.00 SEK/ km |
MAPS
To inform about obstacles, admissions, resting places and passages, there are physical maps to buy (for the entire route 100 SEK, for northern or southern: 50 SEK per map sheet).
Lagan route
Maps in digital form : ( selfprint )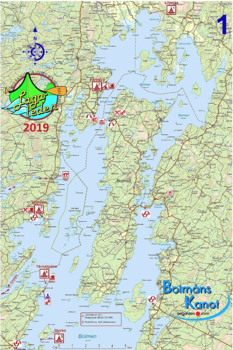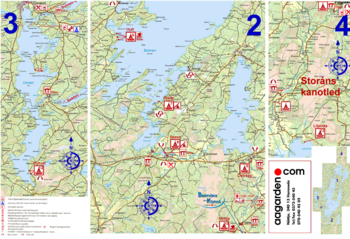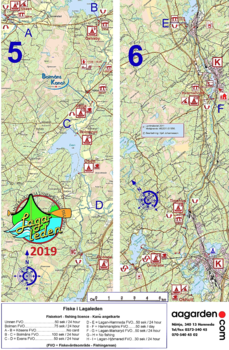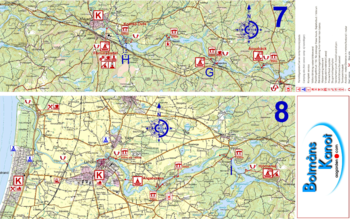 ---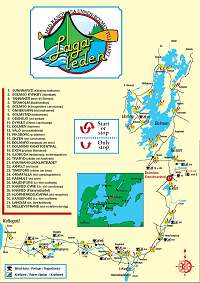 Laganleden overview. Not useful for paddling, use the detailed maps above